MARINE BATTERY PLATFORM
Zenoro provides high performance batteries for comfort and silence on board. These battery platforms are powered by our partner ELEO.
Ultimate relaxation
All yachts are built for comfort. They offer all manner of comfort on board and access to the most beautiful spots and harbors in the world. The difference when powering electrical systems with the Zenoro Marine Battery Platform can be felt by everyone on board. No noise, no odor, no vibrations, and no thin layer of waste matter from exhaust fumes on the water around you. That means ultimate relaxation while enjoying nature and each other.
Clean & silent
The Zenoro Marine Battery Platform is not only comfortable for your guests and crew, but also for your surroundings. After all, no soot (NOx) or CO₂ emissions are produced. The water around your ship is clean to swim in, and nights are no longer disturbed by the noise of the generator.
Space saving & lightweight
The platform is powered by ELEO batteries with superior energy density. This brings great opportunities to yacht builders as they are lighter and occupy less space than standard battery systems. That way, you don't have to make any concessions when it comes to space and comfort in the interior. All electrical systems on board a can be fully connected to the Zenoro Marine Battery Platform.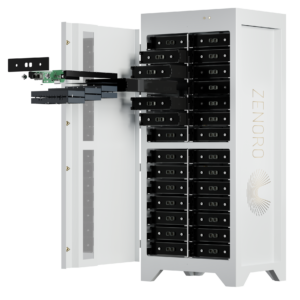 Custom solutions
The flexible design enables the platform dimensions to be altered without any need for extra engineering. On top of that, the platform is easily scalable in any orientation and direction to meet the requirements for your yacht or vessel.
Dutch quality
The complete battery platform is designed and built in the Netherlands. This is where Dutch design and powerful silence come together…